April 8, 2014 in Guardian ad-Litem, Health and Mental Health, Kids At Risk Action (KARA), Politics and Funding, Public Policy, Resources by Mike Tikkanen
I've recently had an argument with an otherwise reasonable and very caring person.
She believes strongly that the unborn (including zygotes) should have rights that one and two year old children don't have (and that one and two year old children should not have – according to her religion).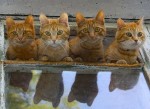 At the same time this person does not want moms to have prenatal care to make sure these babies are born healthy (if taxes pay for it).
For me, who for many years, has witnessed the toxic homes and terrible abuse of fifty children (as a volunteer Hennepin County CASA guardian ad-Litem) it is incomprehensible that anyone would not want babies and very young children to have basic healthcare once they are born.
Think what you might about the unborn, it seems only fair that a living breathing baby should have the right to basic health care (if only to continue breathing). Read the rest of this entry →