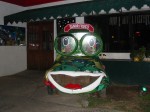 It hurts me to see people shy away from mental health conversations.  We could all benefit with a more open and honest discussion on the topic.
Today's Star Tribune article by Christina Roegies explains how mentally ill people can lead amazing and fulfilling lives.
Long ago I listened to a mental health expert tell his psychologist audience not to think themselves too different from the people they saw daily for treatment.  His logic was that we all have idiosyncracies and periods of our lives when our coping skills are low and we act in nutsey/irrational ways.
Assistant Commissioner of MN Department of Human Services, Dr Read Sulik's "ability to cope" definition of children's mental health is the most understandable and meaningful definition I have heard.
1) being able to engage and relate to others
2) being able to soothe oneself when stressed or upset, and
3) being able to explore and learn from the world around them.
Dr Sulik's statement that "As adults, it is our responsibility to stand up for the children who cannot ask for help".
This is the heart of all that ails our schools, public safety issues (high crime & massive prison populations with ridiculous recidivism rates) and quality of life in our communities.
Crisis nurseries, subsidized daycare, and more support for effective mental health services available through schools and public health make a big improvement in all aspects of our lives individually and as a community.
Relying on psychotropic medications and ignoring the larger conversation on mental health has diminished the quality of life for a huge percentage of our nation.
The very real costs of crime, incarceration, troubled schools, and loss of quality of life when compared to the rest of the industrial nations is a mental health issue and it makes America look pretty nutsey – let's talk about it.
Send KARA stories & feel free to add your comments (please include news and source information)  Buy our book or donate  Watch Our Video
Follow us on Twitter http://twitter.com/KidsAtRisk Continue reading 'Mental Health Month (we all have nutsey behaviors — let's talk about it)'