Share this with page with your foster care friends/teachers/social workers and others working with abused and neglected children in Child Protection and Education.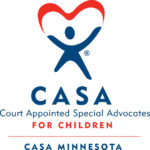 CASA Cares provides grants to benefit the personal growth and development of foster children in the child protection system. We consider grant requests for for children who are living in foster care with active cases, for items or activities not otherwise provided for by public funds. Requests often include bikes, school supplies, dance regalia, senior pictures, prom attire, and camp fees.
Court Appointed Special Advocates (CASA) Minnesota is a member of the National Court Appointed Special Advocates Association (National CASA). A grant from National CASA supports this website and our efforts to encourage communication, development, and effective advocacy for CASA volunteers and Guardians ad Litem statewide.