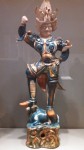 All Adults Are the Protectors of All Children
Support KARA (BUY the book INVISIBLE CHILDREN)
listen to the audiobook for free   Free Weekly KARA Updates
This breathtaking Aspen Ideas interview describes points out the statistical realities of mental health public policies overwhelming American institutions of law enforcement, public safety and public health.
Several states including California and Arizona have used early grade test scores to assist in forecasting required prison capacity growth.  Corrections Digest, April 12, 2002 reports Federal Prisons are 131% of design capacity – 2015 18 states are over capacity.
Chicago Sheriff Thomas Dart's jails are the second largest provider of mental health services in the nation.
Jails and prisons now hold ten times more mentally ill patients than hospitals do & 630,000 Americans exit prison/jail every day.
25 to 40% of the mentally ill will spend time in prisons and jails.
Sheriffs and Police officers don't sign up for duty and …. are not qualified to provide mental health services to the people in their squad cars and jails.
Recently released from jail drug dealers are unable to find work and have to eat.  Few employment opportunities exist for ex felons and going back to the street to hustle more dope is a last resort but it works until he gets caught.  A similar argument works for the teen girls prostituting themselves out of Florida's privatized group homes.
Sheriff Dart argues that locking up diabetics is about as justifiable as locking up the mentally ill.  These are people seeking shelter (trespassing) trying to find food, unable to manage their lives.
What hurts me most about this conversation is the absence of awareness or understanding by these brilliant speakers of where their clients come from and the sad realization that our institutions have a bias of practicing all punishment instead of healing and wellness.
Dart believes years from now we will be thought of as awful people for how we have dumped the mentally in into jails and prisons.  I'm with him.
Minnesota's former Supreme Court Chief Justice Kathleen Blatz has pointed out that 90% of Juvenile Justice kids have come through our child protection system.
#Sheriff Thomas Dart #Mental health policies #prisons
New research led by a University of Georgia sociologist on the growth in the scope and scale of felony convictions finds that, as of 2010, 3 percent of the total U.S. population and 15 percent of the African-American male population have served time in prison. People with felony convictions more broadly account for 8 percent of the overall population and 33 percent of the African-American male population.
All Adults Are the Protectors of All Children
Support KARA (BUY the book INVISIBLE CHILDREN)