Colleges & Museums; We need your help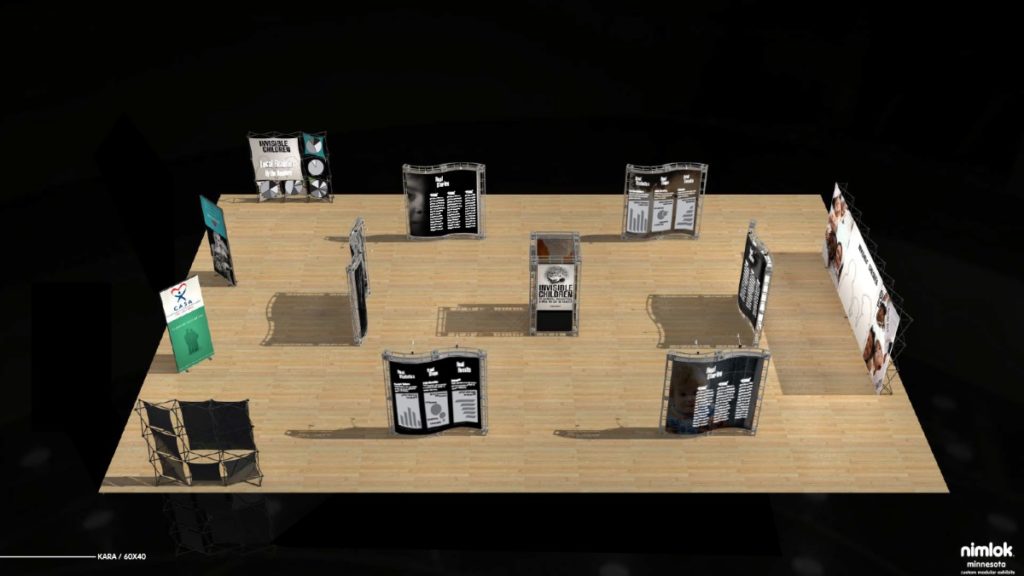 Looking for college campuses and museums where we can setup our compelling exhibit to draw attention to and improve the lives of abused and neglected children in your community
Because MN Governor Dayton's Task Force on child protection made 94 recommendations, 4 counties no longer screen out 90% of their child abuse calls today and it is no longer illegal for social workers to review a family's prior history of child abuse when investigating a new report of abuse.
Every state is struggling to keep at risk children safe.  Few communities have the resources and not many comprehend the long term costs of failing abused and neglected children.
Children don't have rights or a voice – in their homes, in the media or in the courts that too often fail to keep them safe from harm.
Colleges are a critical community to engage.  Within ten years, today's college students will comprise 30% of all the child welfare & child protection officials throughout the nation.
Without early exposure, these new professionals may not be adequately understanding of or committed to America's most prevalent & serious problem – abused & neglected children.
KARA Trauma Informed* College & Museum Traveling Exhibit
Provided free or near free
These 4 – 8 week long exhibits include life sized graphics, stories, data, videos and local child abuse issues. Your college can be a catalyst for saving abused children where you live.
KIDS AT RISK ACTION TRAVELING EXHIBIT PROTOCOL
Phase I
Discussions and agreement between KARA & college about timing and participation.
Discussion about who will be involved, expected levels of participation and any college concerns or interests.
Phase II
List of people and departments participating in the exhibit shared with KARA.
KARA and dedicated college people start conversations with departments & individuals about;
Exhibit construction, delivery & setup, duration & management
Materials & outlines created for distribution to classes visiting/studying the workshop.
Connect with marketing department for community media attention and school newspaper/media.
Community research and outreach (child protection / early childhood / mental health and other organizations and individuals potentially involved).
Depth and scope of the exhibit determined based on college and community involvement.
Dates for performance, roles & duties set.
Space / video / size / and duration masterplan with all details included.
Materials & outlines created for distribution to classes visiting/studying the workshop
Connect with marketing department for community media attention and school newspaper.
Delegation of University volunteers to oversee project in place.
Phase III
Kick off conference before exhibit officially opens (many options for participation)
Exhibit arrives and set up crew installs (hired or internal)
Departments/community/service providers/advocates participate;
Evaluation/workshops/presentations/volunteer recruitment for service providers & programs
Phase IV
Exhibit takedown (crew hired or internal) & shipped back to KARA
Phase V
Review/Evaluation;
Community response
Student response
Volunteer recruitment response
Requests for information/workshops & future involvement by the community, students and departments
Why these important exhibits will be successful
KARA's hard hitting interactive and comprehensive exhibit creates interest in and better understanding of critical child protection & child abuse issues. Compelling videos/stories and information are designed to create a volunteer spirit that will engage participants.
Collaborating with colleges, students and the local community, results in information shared, conversations started, and volunteers engaged on site at KARA kiosks for supporting the programs, and policies that enhance the lives of at risk youth (CASA guardian ad litem, Safe Passage for Children, Big Brothers/Big Sisters, Prevent Child Abuse, Head Start are examples of local volunteer opportunities).
Student volunteers assemble the basic exhibit with help from the KARA team. A menu of workshops/presentations, on site involvement and public forums will be offered along with the exhibit.
Nearly one-third of future child service professionals in Minnesota are currently in college and need to be educated and supported in learning about real-time child abuse and neglect.
 Follow Up
 The KARA College and Museum Traveling Exhibit Program collaborates with departments within the college to build the exhibit and create discussions and awareness that are a catalyst for action and better decision making on these critical issues. At the end of the exhibit and conversations, KARA offers to collaborate with colleges, local providers and educators to increase our impact in the community, especially;
KARA builds awareness of the realities of child abuse where you live & creates support for parenting classes, ACES/Adverse Childhood Experiences, and trauma informed mental health services, Crisis nurseries, Quality day care and other family friendly and early childhood programs.
KARA's exhibit is a catalyst for volunteerism within the student body as well as the outside community. Long after the exhibit has moved to another college, local organizations will still be working with volunteers joined at the exhibit.
KARA will be weaving into these public conversations the need for improved child protection systems, including improved reporting, more accountability, and transparency, better policies, and always having the interests of children at the forefront of the decision makers ruling their young lives. Participants will better understand why they should vote for child friendly initiatives.
By involving students, college departments and community members and organizations, KARA will promote continued information sharing and support for ongoing efforts that promote child well-being. KARA's efforts are intended to enhance legislative efforts as well as financial and personal (volunteer) involvement in the causes of child well-being.
 One State's Struggle With Child Abuse
Former MN Supreme Court Chief Justice Kathleen Blatz remarked that 90% of the youth in juvenile justice have passed through the child protection system. Blatz also remarked that the "difference between a poor child & a felon, is about 8 years".
Professionals & volunteers involved in children at risk & protective services know:
The State of MN closed two private group homes because of serious and repeated violations this past year (St Cloud & Buhl) & Child Protective Services has had to foster children in hospital rooms because neither family nor group foster homes were available.
About 1/3 of State ward children are forced to take psychotropic medications. There are 800 to 1000 emergency psychiatric visits to HCMC (a single city hospital) in Hennepin County every month – many of them children.
Nationally, 20,000 one and two-year-old children were forced onto Prozac like drugs in 2014 and pharmaceutical firms have paid billions of dollars in civil and criminal penalties for illegally selling these drugs to pediatricians for use on children.
Last year 26 MN children died from abuse (1000's were beaten, starved, & sexually abused).
States that are solving these problems are making information public & generating discussions around the issues affecting abused & neglected children.
This exhibit will have a great positive impact on the next generation of administrators, lawmakers, educators, justice & social workers who will determine the quality of life at risk children will lead.
Statement of Need
Summary: These major reasons explain why there are twice as many child abuse and child neglect cases in Minnesota now than there were just nine years ago;
Reporting done by reporter Brandon Stahl at the Star Tribune (in the tortured death of 4 year-old Eric Dean) brought attention to child abuse impacting the number of children being reported
Insufficient understanding of & support for multi-generational child abuse and child neglect has had a continued and growing impact on the numbers of at risk children.
Lack of transparency and accountability within our child protection systems has allowed long standing problems to go unrecognized and become more problematic
A severe lack of understanding and awareness with too little public support for mental health services needed by abused children & the overuse of psychotropic medications in their place
Shortage of foster and adoptive parents and growing problems with alternative group homes
Continued shortage of mandated Court Appointed Special Advocate guardians ad litems for children in the system
Inadequate support and training for educators facing students experiencing child abuse and neglect
Juvenile Justice and law enforcement professionals are currently hamstrung by the lack of adequate facilities and mental health programs for abused and neglected children
Details: Minnesota cities and counties are struggling to find better answers for saving at risk children and breaking the cycle of child abuse and neglect.
Exponential growth of dysfunctional families creating the next generation of abused children raising their own traumatized children with serious mental health issues and no parenting skills continues to overwhelm our state's institutional capacity to achieve successful results. Persistent racial disparity in results within our schools, child protection, and justice systems show few signs of abating.
Public support for mental health services and programs is grossly inadequate. Few people understand the severe and long lasting impact of trauma on children, the problems caused by the forced psychotropic medicating of children, and the glacially slow adaptation of new best practices in working with abused children with trauma informed methods.  A combination of institutional sclerosis, overused HIPAA laws, inadequate reporting, almost no transparency and the uncomfortable nature of the topic are keeping this important information away from the public eye.
The demand for foster and adoptive families far exceeds the available parents. Similarly, the number of mental health services is woefully inadequate. A recent civil rights lawsuit threatens to make our state pay for the abuse that has happened to foster children while in the state's care.  State ward children have routinely been sent to far away group homes and mental health service providers because there have been no local homes or services near where they live.
Educators, social workers, and law enforcement personnel are finding it much harder to manage a growing population of children traumatized by abuse. Turnover in the fields of social work and education are at record highs and law enforcement in many communities has become the de facto provider of mental health services.
Ramsey, Hennepin, and Washington County Sheriff's threatened to sue the state for not providing timely mental health services to people in their care (jails and squad cars). We wonder if it is possible for sheriffs to sue, could teachers and social workers also sue for the rights of children to have adequate mental health services.