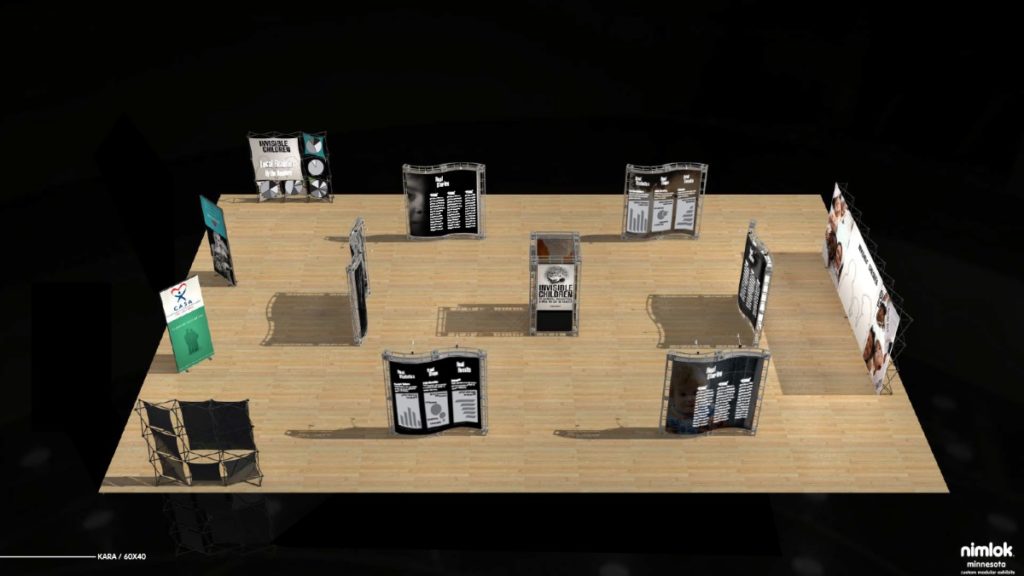 Invite KARA's compelling exhibit to build awareness and volunteerism on your campus to heal traumatized children and end generational child abuse in your community.
Children don't have a voice – in their homes, in the media or in the courts that too often fail to keep them safe from harm.  They need your voice.
Colleges are a critical voice in the community to engage.  Within ten years, today's college students will comprise 30% of all the child welfare & child protection officials throughout the nation.
KARA Trauma Informed*
INVISIBLE CHILDREN 
College Exhibit
Provided free or near free
Make your college a catalyst for ending child abuse and saving abused children where you live.
Changing the way America treats at risk children
KARA's hard hitting interactive and comprehensive exhibit creates interest in and better understanding of critical child protection & child abuse issues. Compelling videos/stories and information are designed to create a volunteer spirit that will engage participants to make a difference to at risk children in your community.
 The KARA College and Museum Traveling Exhibit Program collaborates with departments within the college to build the exhibit and create discussions and awareness that are a catalyst for action and better decision making on these critical issues. At the end of the exhibit and conversations, KARA offers to collaborate with colleges, local providers and educators to increase our impact in the community, especially;
KARA builds awareness of the realities of child abuse where you live & creates support for parenting classes, ACES/Adverse Childhood Experiences, and trauma informed mental health services, Crisis nurseries, Quality day care and other family friendly and early childhood programs.
KARA's exhibit is a catalyst for volunteerism within the student body as well as the outside community. Long after the exhibit has moved to another college, local organizations will still be working with volunteers that joined at the exhibit.
KARA exhibits demonstrate the need for improving child protection systems, better reporting, more accountability, and transparency, and always have the best interests of the child in their decision making..
Participants will better understand why they should work for, volunteer for and vote for child friendly initiatives like crisis nurseries, early childhood programs and quality daycare.
By involving students, college departments and community members and organizations, KARA will promote continued information sharing and support for ongoing efforts that promote child well-being. KARA's efforts are intended to enhance legislative efforts as well as financial and personal (volunteer) involvement in the causes of child well-being.
.
Reporting of child abuse in the media is sporadic and most often only child death and the most egregious harms are reported.
Insufficient understanding of & support for multi-generational child abuse and child neglect has had a continued and growing impact on the numbers of at risk children.
Lack of transparency and accountability within our child protection systems has allowed long standing problems to go unrecognized allowing abuse to continue.
A severe lack of understanding and awareness with too little public support for mental health services needed by abused children & the overuse of psychotropic medications in their place
Shortage of foster and adoptive parents and growing problems with alternative group homes
Continued shortage of mandated Court Appointed Special Advocate guardians ad litems for children in the system
Inadequate support and training for educators facing students that have experienced the traumas of abuse and neglect
Juvenile Justice and law enforcement professionals are currently hamstrung by the lack of adequate facilities and mental health services for the people in their jails and squad cars.
*Trauma Informed 3 minute video   Support the exhibit with a donation