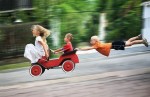 In America, the average cost of foster care in most states for dogs is between $30 & $35/day.
Foster care for children in this nation run from $8.07 / day (Nebraska) to $30 / day (DC) with an average of about $18 / day.  Adoption Assistance Rates  are generally even lower.
Dogs (owners) must bring dog food and never need to supply diapers.
Foster/Adoptive parents must buy food and sometimes diapers for these children (and pay for transportation costs to therapy and doctors, schools and the broken and worn out things that will be broken and worn out by this child).
Dogs require 30 to 60 minutes / day of a caregiver time – traumatized children* require 12 to 24 hours of caregiver time daily.
In my experience as a CASA guardian ad litem, all children placed in child protection and foster homes have been traumatized and most often for years before they are accepted into a child protection system.
Any foster/adoptive mom or dad that's stayed awake all night to monitor a violent, depressed or sexualized state ward to insure that the child and family stay safe from unpredictable and dangerous behaviors can speak to what it takes to make life safe for the child and family.
No dog** carries lighter fluid with the intention of burning down the house.
Tortured children that not getting adequate help for their traumas often exhibit  terrorizing behaviors that hurt themselves (cutting, suicide attempts) and others (lighting fires, stabbing pets and other children).
Our communities are dealing with the fifth and sixth generation of traumatized children without coping or parenting skills having their own generation of traumatized children that will grow up without coping or parenting skills.
Every year Americans report twelve – eighteen million abused & neglected children to child protection services.
Traumatized children living in toxic homes suffer ongoing abuse and often don't get the coping skills necessary to develop normal human relationships or succeed with in school.
Children that don't do well in school often don't graduate (many are already preteen moms or part of the juvenile justice system).
Children that don't graduate from school are statistically much more likely to graduate into the criminal justice system, become single moms & become state wards leading dysfunctional lives.
These are statistically significant truths that summarize the inevitability of our failing schools, high crime rates and incarceration rates and the headline grabbing meltdown of violence and public safety throughout our nation.
"What we do to our children they will do to society" (Pliny the elder 2400 years ago)
All Adults Are The Protectors of All Children
Please donate now and support these pages &
1) Our documentary on the needs of at-risk children and breaking the cycle of abuse
2) Our second book, a collection of micro-bios following at-risk children through their journey
Accepting all donations, small and large. Their lives will not improve without help.
**I love dogs and believe that they are worth every penny of the $35/day it takes to care for them.  What is mind boggling to me is that children in some states are not worth one quarter of that figure to care for a child (Hey Nebraska).
Share this post with your foster family friends and let them know you love them for what they do. 
Also, send this to anyone that lives in or has connections to Nebraskans.  Your effort could make life better for a foster child in Nebraska some day.
Donate now and support these pages & 
KARA'S Traveling Child Abuse/Child Protection Exhibit
Recommend the exhibit to your college/university/museum – start the conversation where you live.