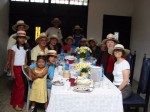 My fondest memory as a CASA guardian ad Litem was an adorable 4 year old girl jumping up and down on the passenger seat of her (about to be) new mother's van repeating "I'm going to be adopted, I'm going to be adopted" with a giant smile and the magnificent energy of a very young child.
I tear up thinking about her.  
There never have been enough good foster or adoptive homes for the terrified and traumatized children making their way through child protective services as they are removed from violent and toxic homes.
Far too many children, especially older children, bounce from foster homes and group homes to aging out of foster care with no permanent ties to any family or adults that have a close personal bond.
This final abandonment happens for too many State Ward children.  The need for caring adults in the lives of abandoned children is huge.
Using religion to interrupt adoptions and fostering by GLBT people is dishonest and cruel and serves no good purpose.
It is not true that GLBT are poor choices for parenting abused and neglected children.  The opposite is much more accurate.
As a long time child protection volunteer, I have repeatedly witnessed extra sensitivity, tolerance and commitment GLBT couples bring to parenting abandoned children.
The GLBT parent has already experienced a lifetime of being different.  They understand self loathing and being treated badly by other children and they know first hand the kind of pain and suffering abused and neglected children live with every day.
If anything, these parents are extremely well suited for managing the almost impossible behavioral problems that are so common to traumatized children as they struggle to gain the coping skills absent in their birth homes.
So when Utah Judge Scott Johansen  removed a foster child from a lesbian couple for no other reason than that they were gay, the child suffers, the parenting couple suffers and the community suffers.
When Illinois and Boston Catholic Charities used religion as a weapon to stop adoption services abandoning all children rather than comply with state laws they caused immense and unnecessary suffering to thousands of families and children.   Gay marriage is legal in our nation.
It would be good if all our religious institutions followed the law and perhaps adopted the medical professions commandment to "do no harm".
(share this widely)